Boat Aura del Mare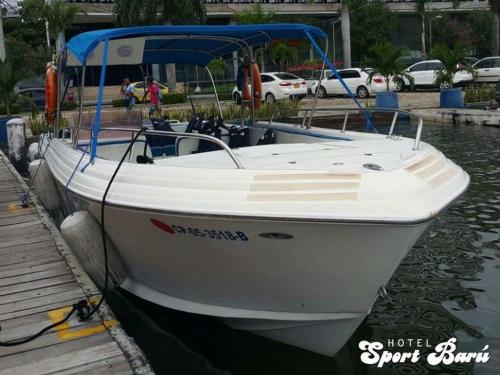 If you wish to arrive at the Hotel by land, it is important to know that only 4X4 vehicles are accessible, and that the journey lasts approximately 2 hours, however, due to the bad state of the road, we generally do not suggest taking this option.
Lacha Aura del Mare: This boat, with a maximum capacity for 30 people, has a 33-foot sports helmet and 2 Yamaha engines of 200 HP each, allowing a pleasant and safe trip to Barú.
This is used mainly to transport guests and visitors of Sport Barú Hotel, to and from Cartagena de Indias.
Guests must show up at Marina Santa Cruz Pier in the Manga neighborhood at 8:00 AM. The departure of the boat is ONLY at 8:30 AM. The return from Sport Barú Hotel to Cartagena is ONLY at 3:30 PM, to be at the Muelle de Cartagena at approximately 4:30 PM.
For security reasons Hotel Sport Baru reserves the right to transport pregnant women in their pregnancy in any month of pregnancy.
La Piccolina boat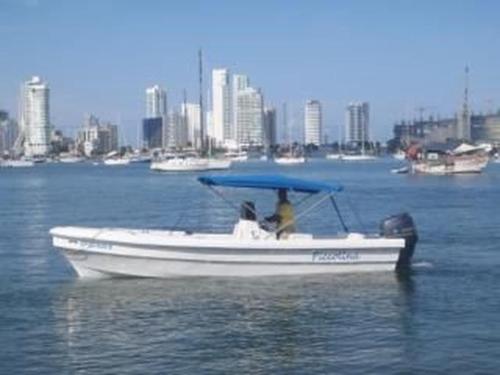 This boat has a maximum capacity for 10 people, has a 21-foot sports helmet. It has 1 Yamaha 100 HP engine, and 1 auxiliary 2.5 engine. It allows a fast and comfortable trip.
This is used for the service of the guests and guests of Sport Barú Hotel, mainly as an option to do activities such as snorkeling, visit Islas del Rosario, go to nearby beaches such as Playa Blanca, do the tour "star bath", in which a luminous plankton bank is visited during the night.
It is also suitable for transporting passengers to and from Cartagena de Indias at different times than traditional ones at an additional cost.